Jackson Township Fire Department Rambo Ride
We continue to mourn the loss of Firefighter/Paramedic Arcenio (Rambo) Rumbaoa Jr. We struggle with letting go, wanting to do more, honoring him, and wishing everyone could know him the way we did. One of Rambo's many attributes was his dedication to education. In his downtime, he could usually be found in the bay or at the kitchen table studying to advance his medical knowledge. He suddenly passed on Sunday, Feb. 20 as the result of a cardiac event.
Arcenio Rumbaoa has a long list of accomplishments. Arcenio served his country as a soldier and medic in the US Army National Guard. After his nearly 22 years of military service, he served his community as a Flight Medic with the Critical Care Team for Lifeline and as a Firefighter/Paramedic with Jackson Township Fire Department. Additionally, Arcenio worked as a Medical Specialist in the Indiana Task Force 1, deploying to help areas damaged by Hurricanes Dorian, Marco, Laura, Delta, and Ida. He also deployed to the Champlain Towers collapse in Surfside to help in rescue efforts.
Proceeds Benefit the Arcenio (Rambo) Rumbaoa Jr. Scholarship Fund
Rambo Ride Registration: 10:30am-12:00pm
Kick Stands Up: 12:30pm
Preregistrations Available Until May 15th
Starts & Finishes at Hamilton County L4416
STOP DESTINATIONS:
Jackson Fire Department: 508 W. Main St., Arcadia 46030
Community Howard/Lifeline: 3500 S. Lafountain St., Kokomo 46902
Elwood Fire Department: 1505 S. B St. Elwood 46036
East Madison Fire Territory: 207 E. Main St., Chesterfield 46107
Hamilton County Local 4416: 399 S 14th St, Noblesville 46060
T-Shirts with event logos printed by 539 Apparel are available with
preregistration for $25.00 with limited availability on day of the event.
Please Complete the Registration Form
Download the PDF registration form by clicking below, fill out all the fields, and then email
the completed PDF form to our Fire Chief John Moore by clicking his name.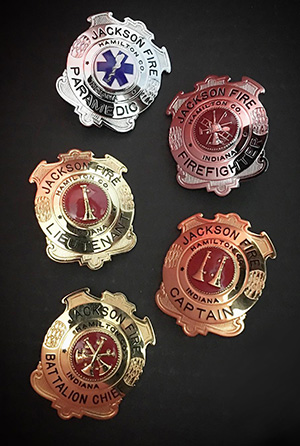 Mailing Address
Jackson Township Fire Department
508 West Main Street
Arcadia, IN 46030-0552

Phone Numbers
Station Office: 317-984-3443
Station Fax: 470-748-6938
Emergency Numbers
Any Emergency: Dial 911
Sheriff's Office: 317-773-1872
Crime Stoppers of IN: 800-222-8477